The Fully Electric Luxury Mercedes-EQ Vehicle Lineup

Mercedes-EQ is known for pushing the boundaries of what's possible from the automobile. Now that the all-electric revolution is upon us, Mercedes-EQ embraces the clear benefits of electrification including efficiency and sustainability. These core principles have shaped the creation of Mercedes-EQ — the electric future of Mercedes-Benz vehicles. Combining the brand's renowned reputation for peerless design and luxury with progressive technology and innovation, Mercedes-EQ vehicles mark the start of an entirely new era.
Meet the Mercedes-EQ Vehicle Lineup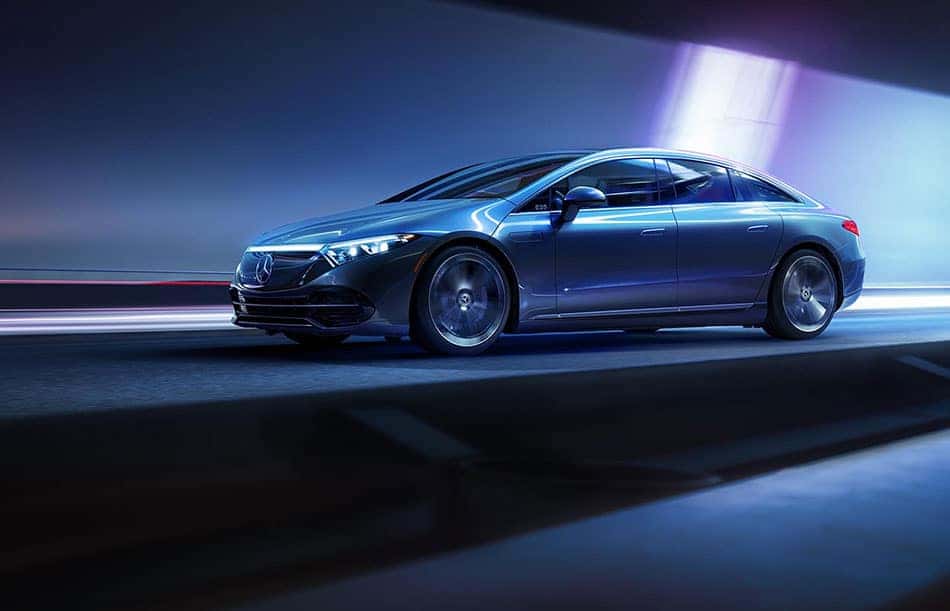 EQS
The flagship sedan of the Mercedes-EQ fleet, the EQS is where you'll find all of the most advanced and luxurious touches developed by Mercedes. Much like how the S-Class is the flagship for gas-powered sedans, the EQS sets the standard for electric sedans across the whole market. Advanced features include the MBUX Hyperscreen, a 56-inch screen that spans the entire dashboard and puts control of a huge variety of functions at your fingertips. A powerful electric drivetrain and AIRMATIC® make driving effortless, and endlessly comfortable.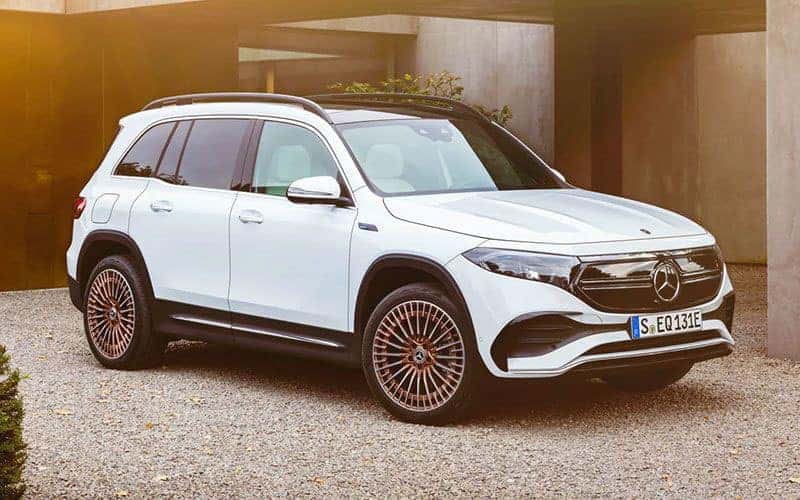 EQB
Based on the gasoline-powered GLB, the EQB is a thoroughly practical seven-seat SUV that makes hauling the whole family fun. All-wheel drive comes standard, and the navigation system comes with Electric Intelligence, which can plan routes in such a way as to maximize electric range, and incorporate DC fast-charging stations if necessary. The interior is comfortable, as you expect from a Mercedes, and the rear seats fold flat to maximize cargo space. Safety is paramount, and the EQB comes standard with automated emergency braking and pedestrian detection. Lane departure warning and lane-keeping assist are also standard, while adaptable cruise control is available.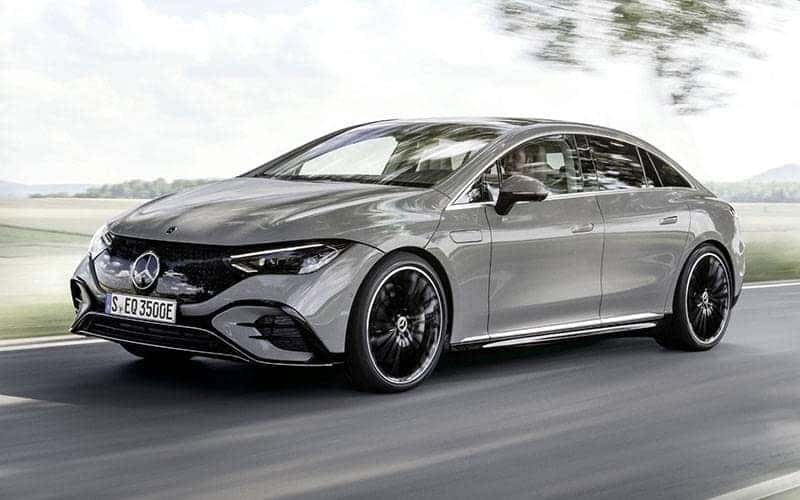 EQE
The Mercedes-EQ midsize sedan, the EQE brings superb handling and maneuverability to the world of electric sedans. This mixes in with the comfort of AIRMATIC® suspension and a fantastically well-appointed interior. DC fast charging can take you from 10% to 100% in just 30 minutes. The EQE shares the MBUX Hyperscreen, a massive 56-inch screen that covers the whole dashboard, with the bigger EQS, and incorporates augmented reality video into the navigation system. There is available adaptive cruise control, as well as a 360-degree camera system and a self-parking system. Though it might be based on the gas-powered E-Class sedan, the EQE comes into its own as a standout electric vehicle.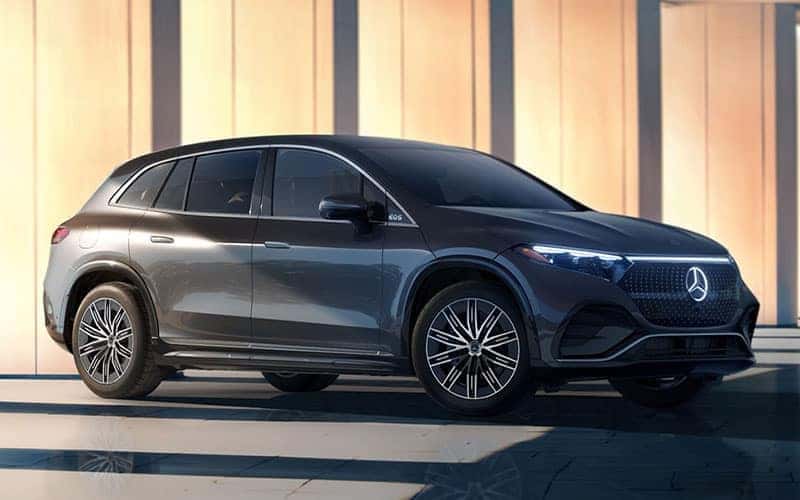 EQS SUV
This flagship heads up the Mercedes-EQ SUV line as a counterpart to the EQS sedan. Taller, and coming with an off-road mode, the EQS SUV also comes with a third row of seats and more headroom than the sedan. But since the two do share a platform, you get things like the option of an MBUX Hyperscreen, and a choice of two powerful drivetrains. The wonderfully comfortable interior is made with a mix of high-quality materials and the very latest in tech. All of this is made even more comfortable with standard air suspension, leather upholstery, and heated and ventilated seats.
Lithium-Ion Batteries
Mounted in the vehicle's underbody, to keep the center of gravity low for better handling and performance, Mercedes-EQ vehicles use highly advanced lithium-ion batteries that deliver the very best in range and charging times.
Synchronous Motors
Compact, but packing tremendous amounts of power and efficiency, synchronous motors deliver the huge amounts of low-end torque that have made electric vehicles such performance stars. Recognizing this, every Mercedes-EQ vehicle is equipped with these motors.
Smart Charging Capabilities
Wherever you are, there is a charging solution for your Mercedes-EQ vehicle. Be it a home changer or any of the 60,000 public charging stations you can connect with using the Mercedes me Charge app in your vehicle or on your smartphone. This includes Electrify America DC fast charging stations.
Electric Vehicles – Frequently Asked Questions
Note: Click on heading to expand or collapse panels.
Very much so. In fact, electric vehicles frequently offer better acceleration than their gas-powered competitors. This is thanks to the superior low-end torque offered by electric motors. Not only that, but power delivery is much smoother, and a lot quieter as well. Not to mention what they'll save you at the gas pump.
The options for this are growing all of the time. For those who install a charger at home, most drivers will rarely need to ever charge anywhere else. But even without a home charger, there is no shortage of other options. Many office buildings have charging stations, a popular solution for people who live in apartments and can't install a home charger. And charging stations at shopping centers are becoming more and more popular all the time, with even a quick shopping stop being plenty of time for a top up and a DC fast charger.
Every Mercedes-EQ vehicle comes with access to the Mercedes me Charge app, which gives you charging locations and can even initiate payment for you.
There isn't a simple answer to this, since every vehicle is different and there are several different kinds of charging. DC fast charging will get any Mercedes-EQ vehicle from 10% charge to somewhere between 80% and 100% in about 30 minutes. A home Level 2 charger will take longer, but here it really depends a lot on the vehicle. For the specifics of your vehicle or the vehicle you're interested in, please consult with our team at Mercedes-Benz of Akron.