Mercedes MBUX Multimedia System Overview

Giving you a glimpse into the future of in-car connectivity and multimedia access, the Mercedes-Benz User Experience (MBUX) system is a true technological showcase. Infused with artificial intelligence, MBUX is an immersive new way to engage and interact with your Mercedes-Benz vehicle. Now included as standard on many Mercedes-Benz vehicles, our team at Mercedes-Benz of Akron is excited to introduce you to this cutting-edge multimedia system. You'll learn all about the key features and benefits of MBUX in this informative guide. Let's take a closer look!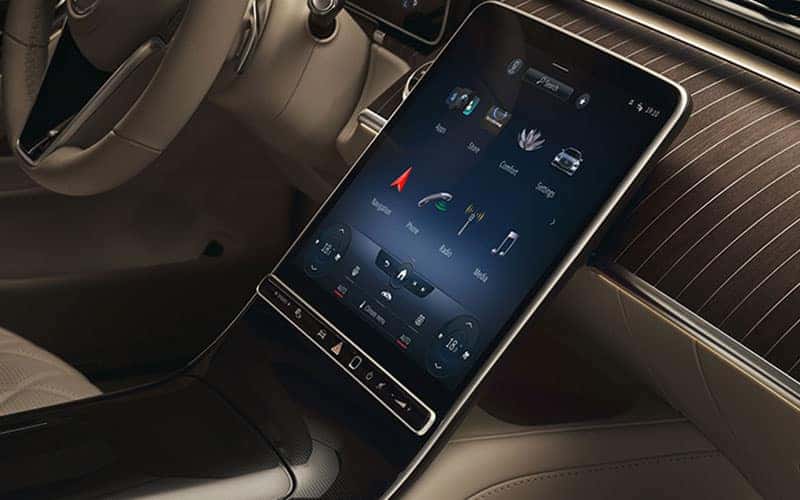 Powered by Artificial Intelligence
A signature component of the revolutionary MBUX system is its machine learning capabilities made possible by artificial intelligence. Over time, the system is able to learn your habits and automatically adjust your preferences. For example, MBUX can detect that your usual commute to work is congested and provide an alternate route suggestion. The radio stations that you most frequently listen to will be arranged in a group for easy access. Applications that you use most often are neatly positioned within a quick glance to keep your eyes safely on the road ahead.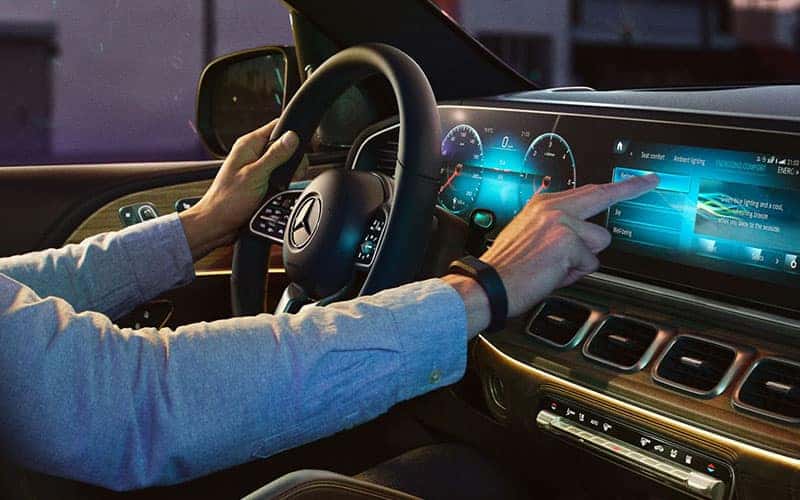 Intuitive Controls
Equal parts intuitive and flexible, another advantage of the MBUX system is its user-friendliness thanks to configurable controls. With multiple ways to interact with the system, drivers can keep their attention on the road in front of them while easily locating key information. For example, models equipped with a center console touchpad can respond to both single and multi-finger gestures including handwriting cues. Certain models feature contactless operating abilities, activated by hand and arm gestures. Individual user profiles, automatically recognized based on your smartphone, add another layer of personalization to the MBUX system.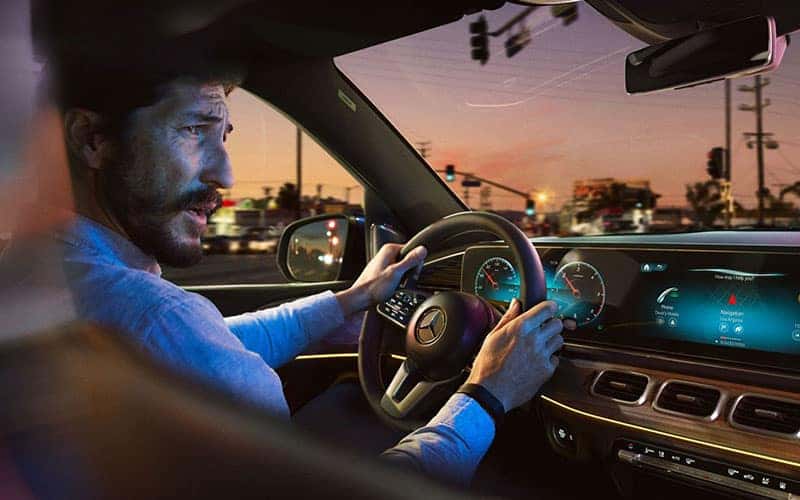 Hey Mercedes Voice Recognition
With just two words – "Hey Mercedes" – the MBUX system automatically connects and responds to your voice commands. Both the driver and passenger can access the system along the way to your destination. Curious about a new restaurant or looking to find parking recommendations? Using real-time data from the map and your surroundings, MBUX can provide you with suggestions via Mercedes me services. Weather, navigation, and other key features can be accessed using only the sound of your voice. Even simple commands like "I'm cold" will allow the system to respond by turning up the temperature to ensure that you're comfortable at all times.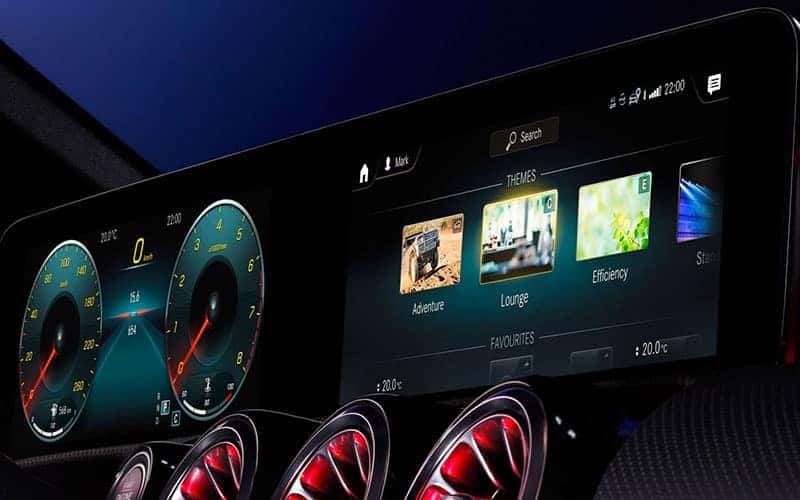 Customizable Themes
Have you ever wished that your car could match your current mood? With the MBUX system and its configurable theme displays, this dream is now a reality. At the touch of a button, the animations on the instrument panel and touchscreen display automatically adjust. Similarly, the driving mode and interior lighting coordinate to match the preset theme. Best of all? The driver also has the ability to configure each of these settings to create their own individual theme display inside of their Mercedes-Benz vehicle using the MBUX system.
Discover Mercedes-Benz Models with MBUX at Mercedes-Benz of Akron
Now that you've learned all about the cutting-edge features and benefits included with the MBUX system, isn't it time to experience it for yourself? Mercedes-Benz of Akron has an extensive selection of the latest Mercedes-Benz models equipped with MBUX for you to choose from. Stop in today and discover all of the perks and possibilities made possible by the Mercedes-Benz User Experience (MBUX) system today! You can also click the link below and browse the available Digital Extras that are available for your Mercedes-Benz vehicle.