Mercedes-Benz Vans: Sprinter & Metris Overview

About the Mercedes-Benz Sprinter and Metris Vans
The next chapter in the success story of Mercedes-Benz vans, the new Sprinter and Metris lead the segment in terms of safety while maintaining their proven reputation for hard-working durability. The new Sprinter's design evolution features a reshaped grille, fenders, and lights, plus a new rear window for improved visibility. As a result of a $500 million investment to build a state-of-the-art facility worthy of assembling the most advanced van in the segment, the new Sprinter is proudly built in the USA in North Charleston, SC.
Whether you're hauling cargo or passengers, the Mercedes-Benz Metris is powered by a 2.0L 4-cylinder turbocharged gasoline engine that is designed to produce substantial torque at low RPMs. Thanks to its award-winning residual value, the Metris keeps your total cost of ownership low and your productivity high. A Best-in-Class turning diameter and a powerful, cost-efficient drivetrain illustrate how Metris doesn't waste any effort getting to the job.

Mercedes me connect
Mercedes me connect makes it simple to keep drivers, managers, and vehicles in your fleet in sync to boost productivity and take your business to the next level. Working in tandem with the Mercedes me connect App, this sophisticated system means that you can check the status of your van with the touch of a button. This app makes it simple to find your van's location, maintenance requirements, and door status remotely from virtually anywhere. Inside your van, Emergency Call Services, Accident and Breakdown Management, and Software Updates are each available for greater peace of mind. Available for both personal and business use, Mercedes me connect revolutionizes the way you and your van stay productive.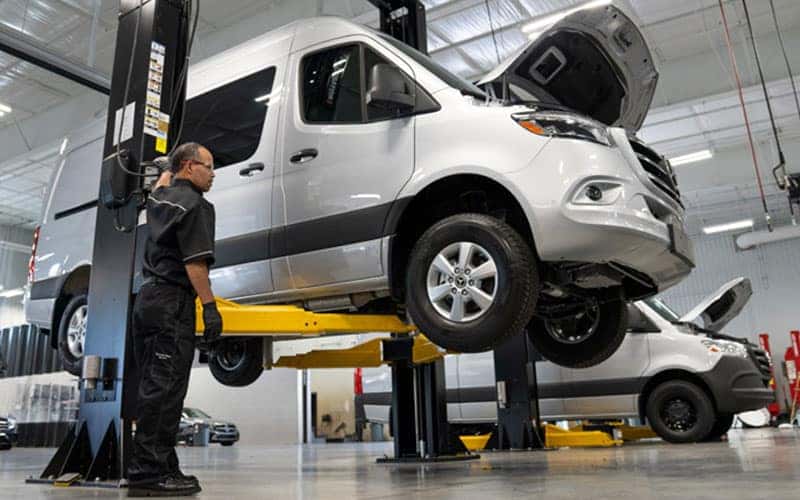 Mercedes-Benz Service and Parts
Ensure your Mercedes-Benz Van remains capable of great performance by leaving service and repairs to our authorized Mercedes-Benz Vans service center. With certified technicians trained to utilize the most up-to-date knowledge and technology, our service center can help you achieve the low cost of ownership a Mercedes-Benz Van is known for. Plus, you can rest assured knowing the quality and craftsmanship put into making your vehicle is the same as Mercedes-Benz puts into its genuine parts.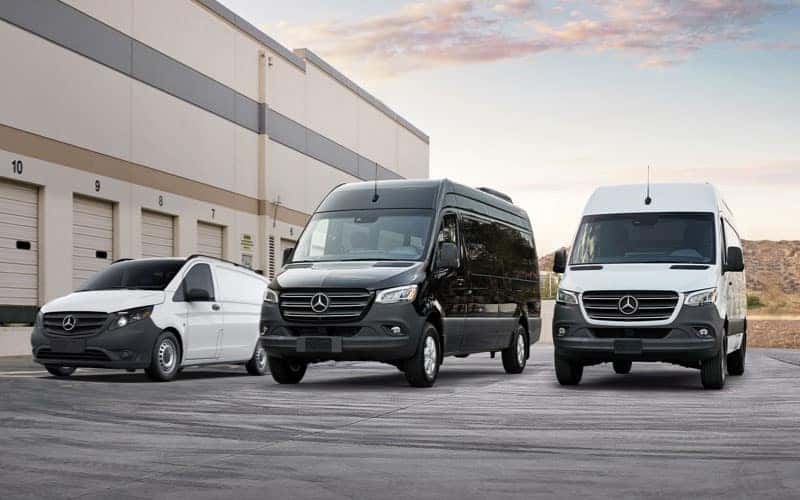 Certified Pre-Owned
With the Mercedes-Benz Vans Certified Pre-Owned program, the possibilities remain limitless. Each one undergoes a 126-point inspection to assess its current condition. It's then certified and reconditioned to factory specifications by factory-trained technicians. Once up for sale, its entire history is available via a CARFAX Vehicle History Report. And to ensure your total satisfaction, we offer a 7-day/500-mile exchange. Best of all, Certified Pre-Owned Vans are backed by robust warranty coverage along with no-cost transferability and zero deductibles.
Within OEM Warranty* (Sprinter and Metris Vans less than 3 years old or 36,000 miles)

CPO Extended Limited Warranty includes 2 years and up to 100,000 miles

Out of OEM Warranty* (Sprinter and Metris Vans less than 5 years old or 75,000 miles)

CPO Extended Limited Warranty includes 1 year and up to 100,000 miles
Sprinter Vans FAQ
Where are Sprinter Vans manufactured?
For United States customers, the Sprinter is assembled at a dedicated facility in North Charleston, South Carolina. Depending on the configuration, some Sprinter models are partially built in Germany and then the assembly is completed once shipped to South Carolina. The Mercedes-Benz Vans facility in South Carolina currently employs approximately 1,400 individuals.
Are Sprinter Vans front-wheel drive?
Sprinter Vans come standard with rear-wheel drive on base trims. However, if you need a van with additional capability – opt for the available electronically-engaged four-wheel drive system (4X4). The smaller sibling of the Sprinter, the Mercedes-Benz Metris, comes standard with rear-wheel drive as well.
What class is the Mercedes-Benz Sprinter?
In the United States, most Sprinter models are considered light commercial vehicles. Since Sprinter Vans are available in cargo, passenger, and even chassis-cab configurations – their classes can vary after upfitting. You'll find many upfitted Sprinter Vans as either Class B or Class C recreational vehicles (RVs).
What is the overall length of a Mercedes-Benz Sprinter Van?
In terms of wheelbase length, the Mercedes-Benz Sprinter Van measures either 144 inches or 170 inches depending on which option is selected. There are also three different overall length measurements – 233.5 inches, 274.3 inches, and 290 inches for the longest version of a Sprinter Van.
What weight can a Sprinter Van carry?
With so many different configurations and options available to buyers, the Sprinter Van has the capability to tackle virtually any job. Maximum payload capacities range from 3,274 pounds all the way up to 7,484 pounds.
MBCPO Extended Limited Warranty coverage limited to 36,000 total vehicle accumulated miles for a 3-year warranty or 75,000 total vehicle accumulated miles for a 5-year warranty. Other terms apply. For full details, including all limitations, ask your dealer for a copy of the Mercedes-Benz Certified Pre-Owned Limited Warranty and optional warranty extensions.