2022 EQS from Mercedes-EQ Model Review

2022 EQS from Mercedes-EQ
Key Features
Starting at $102,310 MSRP*
Electrified powertrain generating 329 HP and 406 lb-ft of torque (EQS 450+) or 516 HP and 611 lb-ft of torque (EQS 580 4MATIC®)
107.8 kWh battery capacity with AC Charging (240V) and DC Fast Charging (200kW) capabilities
0-60 MPH 5.5 seconds (EQS 480+) and 4.1 seconds (EQS 580 4MATIC®)
Optional MBUX Hyperscreen with three displays under a single 56-inch curved glass surface
Next-generation MBUX Multimedia System with Augmented Reality Navigation system featuring Natural Language Understanding and Keyword Activation
Active Ambient Lighting with 64 Colors, including a new EQ-Specific Color Scheme
Multicontour front seats with massage
About the EQS from Mercedes-EQ
Ready to experience the next generation of luxury motoring? The dynamic EQS is the latest addition to the growing lineup of Mercedes-EQ electrified vehicles. Inspired by the legendary S-Class, the EQS is intended to introduce drivers to the all-electric future in its most luxurious form. In addition to first-class comfort, the EQS allows you to experience smooth, streamlined power delivery from a dual-motor electric powertrain that balances both exhilaration and refinement unlike any other luxury sedan.
Along with its thrilling performance capabilities, the EQS is also proud to showcase the latest iterations of innovative technology breakthroughs from Mercedes-EQ. The crown jewel of the interior is the jaw-dropping MBUX Hyperscreen. Spanning over 56 inches in total width, this remarkable display highlights the emotional intelligence of the flagship vehicle of the Mercedes-EQ lineup. Paired with an impeccably finished yet sustainably-produced interior, the EQS marks the start of an entirely new chapter of first-class travel.
What the Critics Say
---
What Mercedes is providing is a spacious, powerful, elegant, and advanced saloon that makes its passengers feel comfortable and confident—and also happens to be electric. The EQS is not perfect, but it's good. Time spent in its confines felt like an escape from the banalities of daily life." – Bloomberg
---
A standard air suspension lets the EQS waft over bumps, with a hushed and isolated feel far removed from any road imperfections. The steering is accurate, but has only moderate feedback — much like an S-Class. More of a grand tourer than a sports car, the EQS is tuned for a painless driving experience rather than carving corners, and it succeeds at its mission." – Cars.com
EQS by Mercedes-EQ Features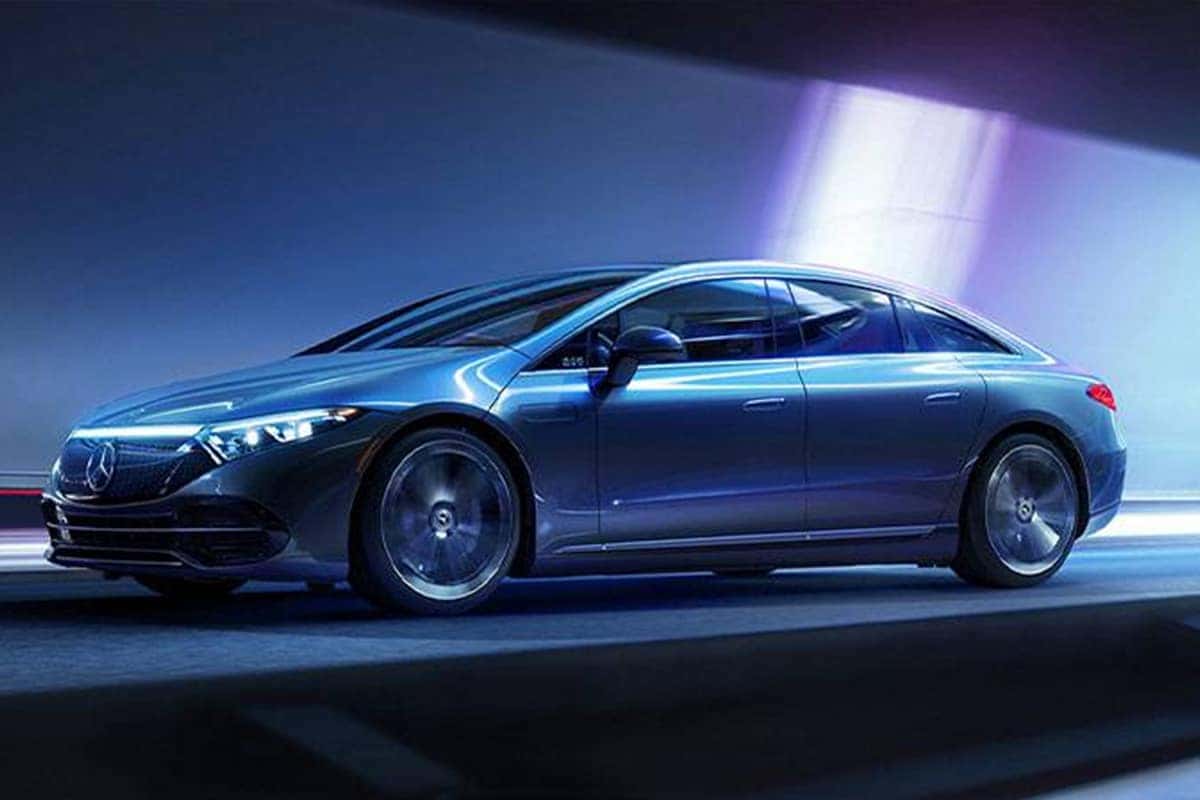 Electrified Performance
Positioned at each axle, available twin electric motors are cleverly integrated into the floor of the EQS to deliver perfected handling through a low center of gravity. EQS 450+ models produce a total of 329 horsepower and 406 lb-ft of torque while EQS 580 4MATIC® dials up the exhilaration to 516 horsepower and 611 lb-ft of torque. This means that the EQS can accelerate from 0 to 60 MPH in as little as 5.5 seconds on its way to a top speed of 130 MPH.
Thanks to its standard AIRMATIC® Air Suspension with Adaptive Damping System, the EQS glides effortlessly over imperfections in the road surface. Innovative rear-axle steering capabilities provide enhanced steering angles of up to 4.5 degrees. DYNAMIC SELECT including Comfort, Sport, Eco, and Individual driving modes lets you further personalize your driving experience behind the wheel of the EQS. Charging takes as little as 31 minutes (10-100%) using its innovative DC Fast Charging (200 kW) capabilities.
Groundbreaking Technology
A true marvel of engineering and technological innovation, the interior of the EQS will dazzle your senses. Taking center stage inside the cabin is the revolutionary MBUX Hyperscreen. Intuitive to operate, visually impressive, and equipped with machine-learning capabilities – this jaw-dropping display consists of a massive 56-inch curved screen panel. Technical specifications of the Hyperscreen include 46.4 GB per second RAM memory bandwidth, 24-gigabyte RAM, and 8 CPU cores. This system delivers haptic feedback through a total of 12 actuators across the touchscreen surface and can support up to 27 different languages through Natural Language Understanding (NLU). AI data processing capabilities can make intuitive suggestions to the driver based on input.
Luxurious Comfort
Paying careful attention to the comfort of drivers while placing emphasis on sustainability, the interior of the EQS takes inspiration from the iconic S-Class. Included as standard, multicontour front seats feature massage capabilities and heating functions to ease stress and tension. An available Burmester® 3D Sound System with Sound Personalization delivers the perfect soundtrack for your drive with exceptional depth and clarity. You can customize the mood of the cabin to suit your preferences with Active Ambient Lighting with 64 Colors, including an EQ-Specific Color Scheme. Other premium features of the interior include soft close doors, panoramic sunroof, 4-zone climate control, and wireless charging integrated within the front armrest.
---
Trims & Specs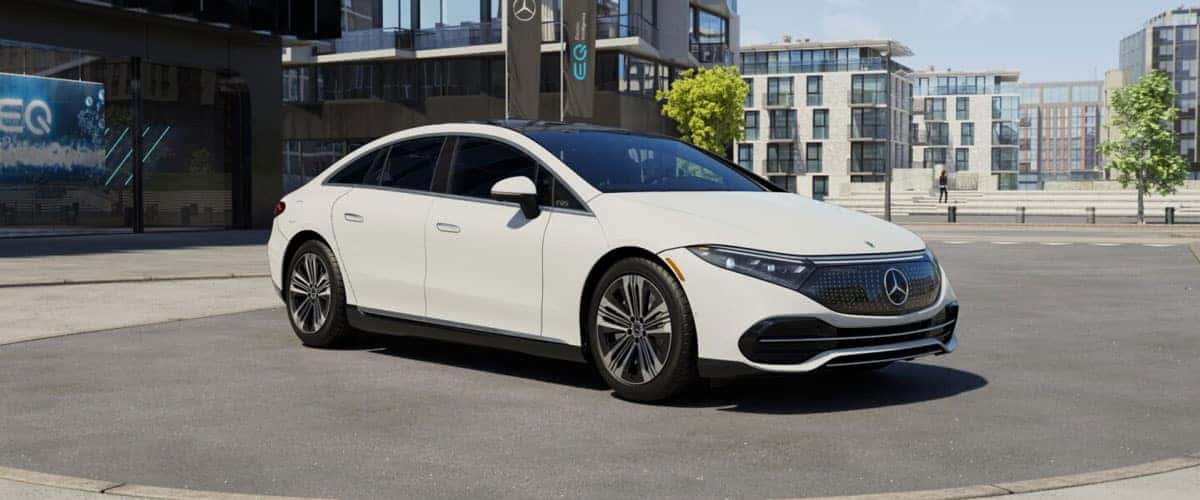 EQS 450+ Sedan
Starting at $102,310 MSRP*
Permanently Excited Synchronous (PSM) producing 329 HP and 406 lb-ft of torque
Burmester 3D Surround Sound system w/EV Sound
MBUX Augmented Video for Navigation
10-degree rear axle steering
Driver Assistance Package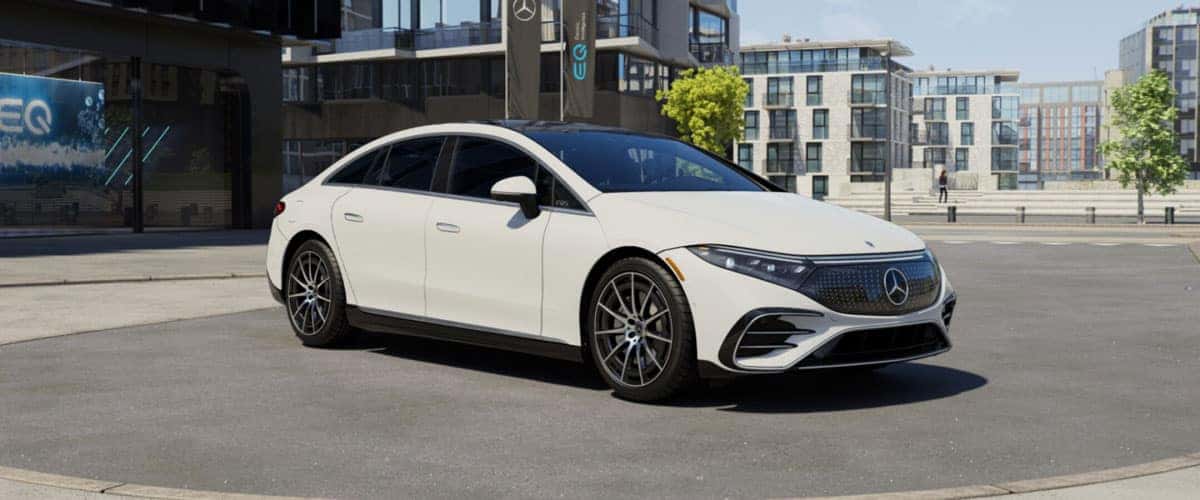 EQS 580 4MATIC® Sedan
Starting at $119,110 MSRP*
Dual Permanently Excited Synchronous (PSM) producing 516 HP and 611 lb-ft of torque
LED DIGITAL LIGHT headlamps w/lightband
PARKTRONIC with Active Parking Assist
Surround View System
Acoustic Vehicle Alert System
** Some images may display optional equipment.
*** Some images may display European models.