2023 EQB by Mercedes-EQ Model Review with Photos & Specs

Key Features
Starting MSRP TBA
420 V lithium-ion battery with 66.5 kWh battery capacity producing 225 HP and 288 lb-ft of torque (300) and 288 HP and 324 lb-ft of torque (350) with standard 4MATIC® all-wheel drive
Charge times: 7.5 hours (10 – 100%) using 240V wall box and 32 minutes (10 – 80%) using DC fast charging 110kW
New-generation MBUX Multimedia System, including Natural Language Understanding and Keyword Activation ("Hey Mercedes")
Navigation with Electric Intelligence factors maximum charging power and duration of charging stops into route recommendations
Interior Widescreen Cockpit creates a futuristic environment in which to control the vehicle and MBUX
Mercedes me Charge provides access to numerous charging stations from various providers
Electric-inspired design including blue color highlights in the headlamps and a horizontal fiber-optic running strip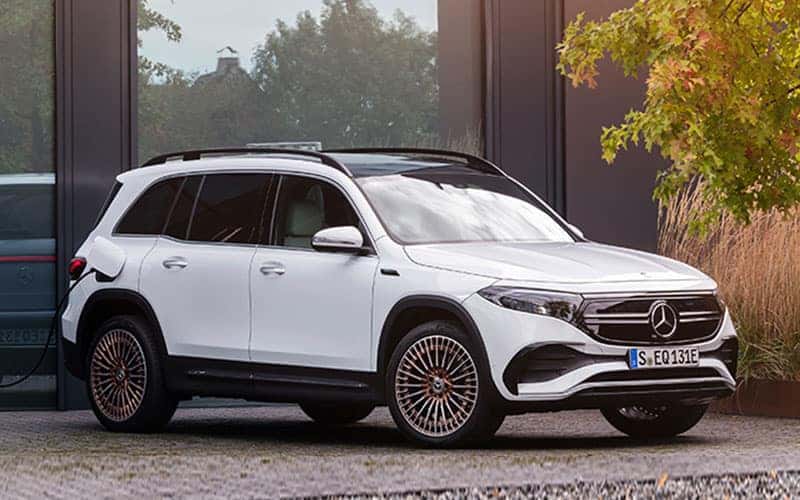 About the EQB by Mercedes-EQ
Marking the start of the next chapter of all-electric mobility, the 7-seat EQB by Mercedes-EQ is the latest addition to the brand's growing portfolio of luxury EVs. This sophisticated SUV features an inspiring blend of comfort, efficiency, and practicality not found anywhere else in the all-electric luxury segment. Its 111-inch compact wheelbase helps the EQB deliver outstanding maneuverability without jeopardizing interior room. Power comes in the form of an advanced all-electric powertrain available in two forms, delivering 225 horsepower and 288 horsepower respectively. Various charging solutions include impressive DC fast charging capabilities that help eliminate any potential concerns related to range anxiety. When it comes to interior appointments, you'll discover the same state-of-the-art Mercedes-EQ innovation found across the rest of the model range inside the EQB. Some examples include the current generation MBUX Multimedia System featuring "Hey Mercedes" Keyword Activation. A comprehensive collection of active driver-assistive safety features help elevate the EQB above the crowd.
What the Critics Say
---
Apart from some head toss—a function of its higher ride height and higher seating position—this little electric Mercedes SUV feels almost as calm and relaxing to be in as an S-Class. In terms of its EV competition, the EQB350 feels nowhere near as busy on poor roads as the stiffly sprung Volvo XC40 Recharge, and generates a lot less road noise than the Tesla Model Y." — MotorTrend
---
There are five seats across two rows with an optional pop-up third row of seats. Nicely trimmed door panels, soft leather upholstery, and bright metal trim all lend an upscale look to the EQB's cabin. The EQB, also like other EQ models, also features lovely rose-gold interior accents." — Car and Driver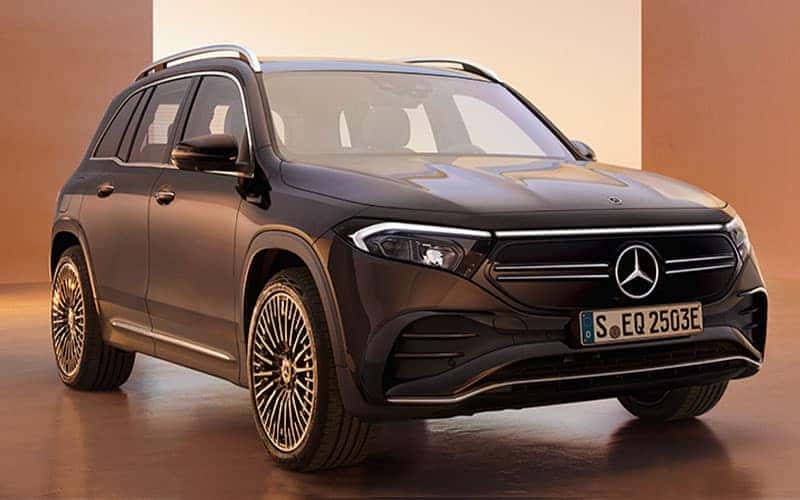 All-Electric Performance
Proof that there's never been a better opportunity to transition to all-electric travel, the EQB by Mercedes-EQ features clever engineering and remarkable performance capabilities. Ingeniously positioned low within the chassis, a 420V lithium-ion battery boasts a total of 66.5 kWh of battery capacity to help take your adventures further than ever before. In terms of total system output, EQB 300 models produce a total of 225 horsepower and 288 lb-ft of torque while EQB 350 variants up the ante to 288 horsepower and 324 lb-ft of torque. No matter which powertrain is selected, all EQB models benefit from the proven 4MATIC® all-wheel drive system as standard equipment. Helping to further boost efficiency is a standard ECO Assist feature that can intuitively compute and adjust the most economical drive characteristics based on the conditions.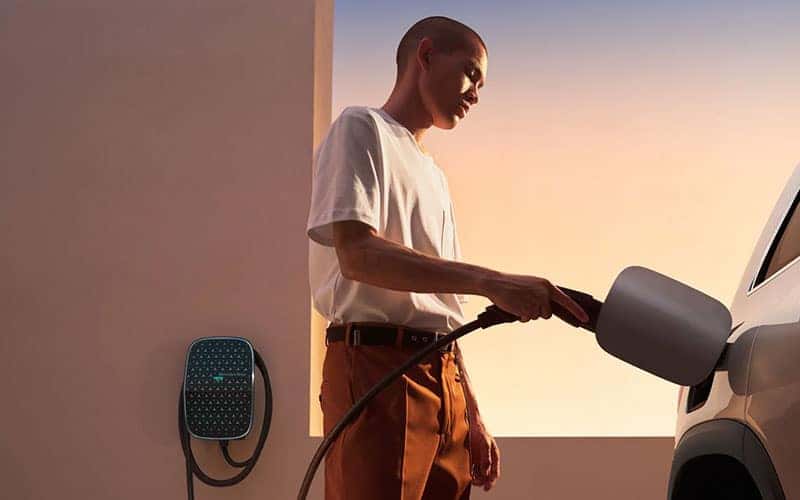 Charging Solutions
Making range anxiety a thing of the past, the EQB is engineered with a number of advanced charging solutions and EV-specific tech features to help you get the most out of every mile. When plugged into a 240V wall box installed in your home garage, the EQB has the ability to charge from 10% to 100% capacity in 7.5 hours overnight. Drivers can also take advantage of its sophisticated DC fast charging capabilities to charge from 10% to 80% in as little as 32 minutes. Another standard feature, Mercedes me Charge gives you access to an expanding network of charging stations from a number of providers all over the country. Better still, the exclusive Navigation with Electric Intelligence system takes into account maximum charging power and the duration of charging stops when providing route suggestions. The EQB is carefully crafted to seamlessly accommodate your lifestyle, helping you enjoy all the perks and advantages that come from all-electric driving.
Premium Interior
Achieving harmony between premium comfort, everyday practicality, and revolutionary technology – the interior of the EQB offers a welcoming place to relax while staying connected to your social circle. In addition to 3 rows of spacious seating for up to 7 occupants, the EQB also offers an impressive 41 inches of front headroom in addition to 23 cubic feet of rear trunk capacity for all of your essentials. A sleek, streamlined dashboard is complemented further by aluminum-styled switchgear and an eye-catching Interior Widescreen Cockpit display. This high-clarity display houses the award-winning MBUX infotainment system that benefits from Natural Language Understanding and Keyword Activation ("Hey Mercedes"). Available Augmented Reality Navigation transforms how you explore a new city through advanced machine learning capabilities. A comprehensive of the most current Driving Assistance systems provide an extra layer of protection and confidence behind the wheel of the EQB.
---
Stay Informed on the Mercedes-Benz EQC
**Images may contain European models.
***Images may contain Optional equipment.