Mercedes-Benz Oil Change in Akron, Ohio

One of the easiest, cheapest, and most frequently performed maintenance procedures you can do to protect your Mercedes-Benz is an engine oil change. The primary function of engine oil is to lubricate the engine internals, protecting them from heat and friction that could cause serious damage. Oil changes are a part of the regular service schedule for your Mercedes-Benz, which is made up of A Services and B Services. These include oil changes, but also other necessary preventative maintenance. For an in-depth breakdown and service scheduling with Mercedes-Benz of Akron, please click the buttons below.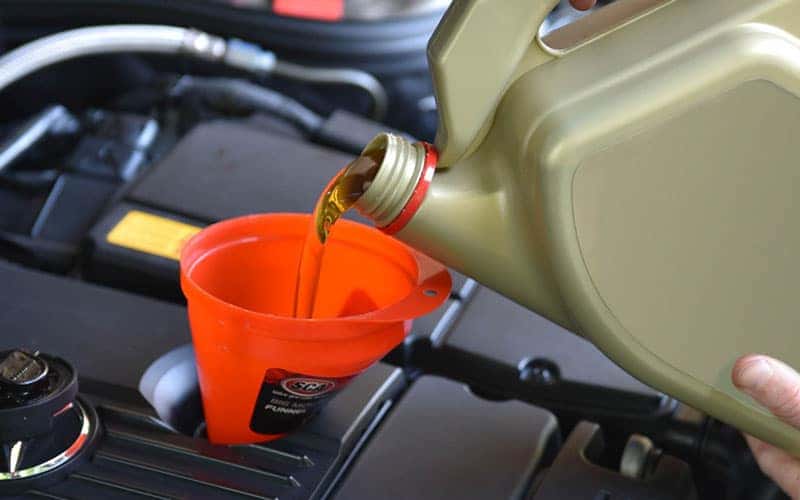 When Is the Right Time to Change My Oil?
Individual driving styles and conditions might not always be the same, but the service team at Mercedes-Benz of Akron is here to make sure your vehicle gets the service it needs to keep running like new. The best way to determine when that oil change should be would be to consult the owner's manual. This is especially important since recent advances in oil and engine technology have meant that recommended service intervals have changed several times in recent years.
Some older Mercedes-Benz models have recommended oil changes every 6 months or 5,000 miles, whichever comes first. But for newer models, it's frequently 7,500 or even 10,000 miles. This is why it's important to check the manual and be certain which interval is correct for your vehicle. But if you're still unsure about when you should change your oil, the friendly and knowledgeable service advisors at Mercedes-Benz of Akron will be happy to get you that information.
Tips for Identifying an Engine Oil-Related Issue
Sometimes there can be an issue with engine oil that is beyond the routine, and knowing what to look for can help ensure that your Mercedes-Benz gets the service it needs when these things occur.
Oil Spots Beneath Your Vehicle
Oil stains and especially oil puddles under your vehicle are a good reason to bring your Mercedes-Benz in to have our expert technicians inspect it. Oil leaks usually come from the drain plug, oil pan gasket, or the valve cover gasket. Oil is absolutely crucial for the engine to function, so even a small leak should be addressed before it becomes a big problem.
Oil Warning / Low Oil Pressure Light
An oil or oil pressure warning light appearing on the dash is usually an indication of a more serious issue. It is recommended in this situation to stop driving and shut off the engine as soon as it is safe to do so. Contact the experts at Mercedes-Benz of Akron right away to get the problem addressed.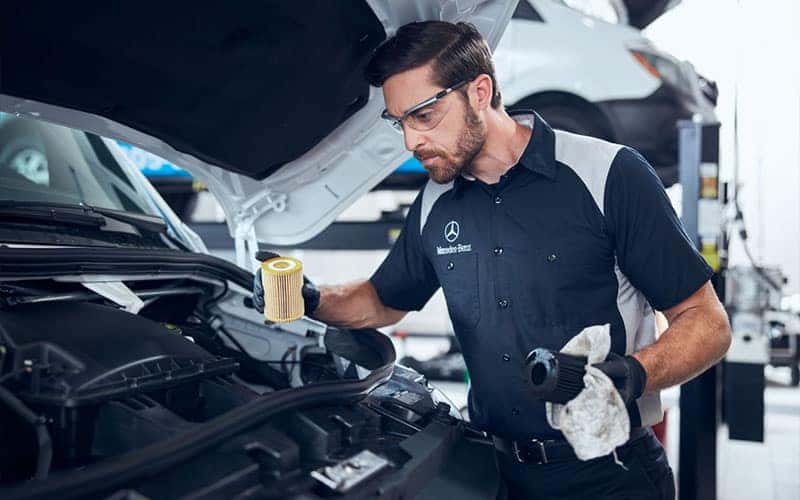 Why Have Your Oil Changed at Mercedes-Benz of Akron?
Engine oil is such a critical part of keeping your engine running, it's not the sort of thing you want to leave up to anyone but the experts. That's why Mercedes-Benz of Akron is here with a team of certified Mercedes-Benz technicians who know your vehicle inside and out. We use only genuine Mercedes-Benz oil filters, and oil that meets or exceeds manufacturer specifications. Your vehicle will receive a thorough inspection as well, to make sure that it is in good working order and will continue to give you many years of driving enjoyment.